Ladies and Gents, THANK YOU for your kind thoughts on the Interwebs, regarding our Nov. 5 fire benefit gig. Truth is, we didn't know if we were gonna play again. Our last gig was about four years ago. That's a long time no skanking! Well there were kids and teens and moms and pops all dancing and having a ball at this last event, including some of the Uptones' own lads and lasses, and it was just a great family vibe. Hearing your feedback via emails and socialnets motivated us to do another show, in…. LESS THAN FOUR YEARS! LOL yes. Drum roll please..
The UPTONES are playing an early, All-Ages dance concert on Sunday, April 22nd, at the Ashkenaz. Here's the Event Page with ticket links etc.
Here's a show poster designed by our very own The Rev. Paul Jackson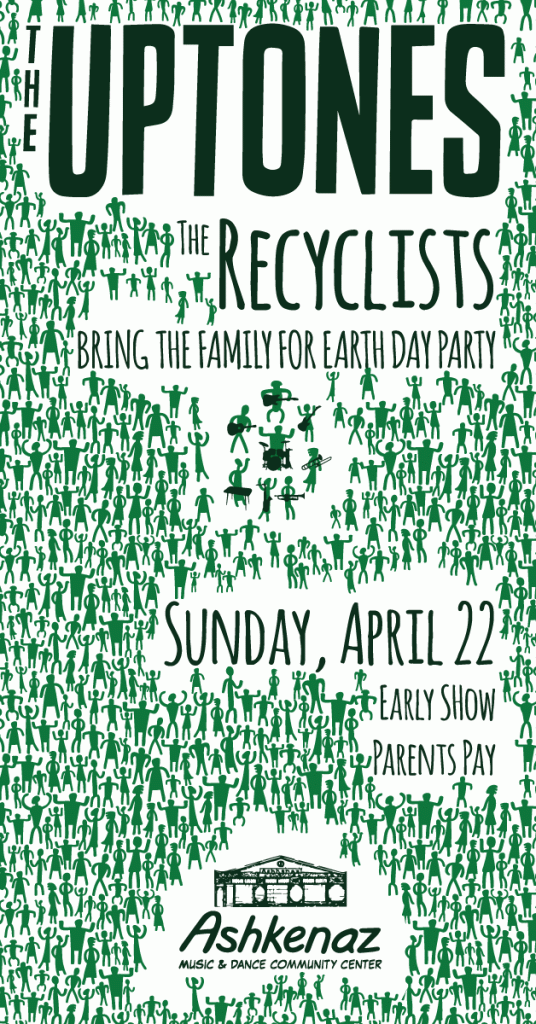 Joining us on the bill again are The Recyclists, who played a marvelous set before us in November,
aaaaaaand, YOU! Bring the fam for Earth Day! Tickets available soon, and we'll make an event page,
as suggested by Linda on our FB page. Stay tuned, and get your dancing shoes out da closet! 🙂
-Eric, Bennie, Paul, Moose, Mikey, Jeanne, Adam and Jay
*****UPDATE, Feb 20! Here's the event page w/ ticket links etc.